News
Physical Therapy Leads To Both Direct & Indirect Benefits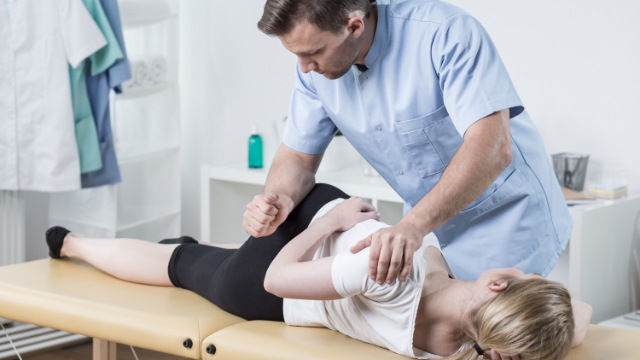 In our last post, we summarized a meta–analysis that investigated the use of spinal manipulation and found ample evidence from numerous studies that it was effective for chronic low back pain. But spinal manipulation is just one of many interventions that may be used during physical therapy, as all treatment plans are comprehensive and comprised of several techniques and treatments.
Another key feature of physical therapy is that therapists consider it to be of the utmost importance to individualize treatment for all patients. This means that the therapist will carefully consider the patient's physical capacity, injury history and severity, pain tolerance, goals, and several other factors when designing the treatment plan, and these factors will help determine which interventions are most appropriate and what duration of therapy is needed to increase the likelihood of a positive outcome.
Individualized physical therapy may be particularly effective for low back pain, as research has shown that low back pain is driven by a variety of factors—like sleep, anxiety, and social factors like work engagement—that are not yet completely understood. Therefore, individualized physical therapy can target several of these factors simultaneously to provide maximum benefit, and some studies have found small but promising results in this population; however, the research on this topic is limited, and a powerful study called a Bayesian network analysis was conducted to further explore how physical therapy treatments work for patients with low back pain.
300 patients randomly assigned to one of two groups and followed up for one year
Individuals with a current episode of low back pain for a minimum of 6 weeks and no more than 6 months were recruited to participate and screened, which led to 300 patients being enrolled in the study. These patients were randomly assigned to receive either individualized physical therapy or guideline–based advice, both of which took place over 10 weeks. Participants in the guideline–based advice group underwent two 30–minute sessions over the 10 weeks, which included education about the source of their pain, reassurance about a favorable prognosis, advice to remain active, and instructions regarding appropriate lifting techniques.
Participants in the individualized physical therapy group underwent 10 30–minute sessions over the 10 weeks. Treatment was individualized based on each patient's specific condition and included a combination of education, self–management strategies, exercises, inflammation–reducing strategies, and manual (hands–on) therapy. All patients were evaluated before the 10–week period, immediately afterwards, and then again at a one–year follow–up for various outcome measures, including low back pain and leg pain intensity, disability, pain persistence, and pain coping. These data were used to conduct the Bayesian network analysis and answer the questions posed about individualized physical therapy.
Results showed that individualized physical therapy directly led to early changes (within 10 weeks) in both disability and pain coping. Individualized physical therapy also indirectly improved back pain intensity, recovery expectations, sleep, fear, anxiety, and depression, and researchers found that these indirect improvements resulted from the early changes in disability. In other words, the gains in physical abilities that patients experienced within the 10 weeks of individualized physical therapy helped to alleviate depression, fear, anxiety and elicit other improvements as well.
This study shows that individualized physical therapy not only helps patients move more easily and with less pain but may address some of the psychological symptoms that many patients with low back pain deal with as well. Since low back pain is a complex condition driven by many varied factors, individualized physical therapy may be a key solution because it accounts for these variables and targets them with unique approaches. Therefore, if you're dealing with low back pain, we strongly recommend contacting us to schedule an appointment for us to evaluate your problem and get you started on a path to recovery.
April 26, 2022
See News
Disclaimer:
The information in the articles, posts, and newsfeed is intended for informational and educational purposes only and in no way should be taken to be the provision or practice of physical therapy, medical, or professional healthcare advice or services. The information should not be considered complete or exhaustive and should not be used for diagnostic or treatment purposes without first consulting with your physical therapist, occupational therapist, physician or other healthcare provider. The owners of this website accept no responsibility for the misuse of information contained within this website.